What is Speech Pathology?
Speech Pathologists are health professionals with expertise in the assessment and management of communication, feeding and swallowing difficulties. They are trained in a variety of areas and work with children and young adults of all ages to overcome communication struggles and learn healthy habits. Speech Pathologists are able to identify, assess, diagnose and treat a wide range of areas and create ongoing treatment plans to ensure healthy development in children and adolescents.
We can help children with
Improving their ability to be understood by others
Strengthening their skills in reading and writing
Overcoming difficulties with social communication skills
Increasing their comprehension including ability to follow directions
Creating or recommending assistive devices to support their communication
Safe swallowing of food and drink
Reducing their stuttering
Speech Pathology Assessments
Assessments may be informal and include observations of your child, consulting with your child's school and completing questionnaires about your child. Formal or standardised assessments are used to assess overall achievement and compare a child's performance with other children their age. Standardised assessments may take more than one session to complete.
Rebates and Funding Programs
While Youthrive is a fee paying service, some Medicare and private health insurance rebates may be available for our services. Families are encouraged to speak with their GP and nominated health fund to find out whether they are eligible various rebates. Please note rebates listed below are subject to change without notice.
We support families
Speech Pathologists at Youthrive utilise a number of evidence based therapeutic interventions when working with children and their families.  The intervention provided is dependent upon the child's need.
Occupational Therapy & Speech Pathology Screening Sessions
This childhood screening package aims to assist early childhood educators and parents in identifying developmental challenges for children as early as possible.
To find out more, click here.
Learnersaurus Literacy Program
A multisensory approach to teaching literacy skills to all learners, including those with Dyslexia.
The Lidcombe Therapy
A behavioural treatment for children who stutter.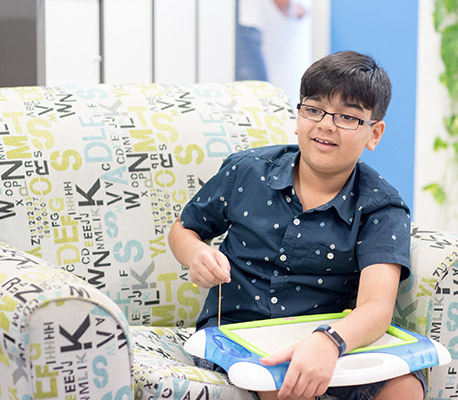 Picture Exchange Communication System (PECS)
PECS is a communication device for children. It is particularly useful for children on the autism spectrum.
Hanen 'More Than Words'
Designed specifically for parents of children aged 5 years and under on the autism spectrum. The program provides parents with strategies to support their child to reach their full communication potential.
Hanen 'It Takes Two to Talk'
Designed specifically for parents of children aged 5 years and under and whom have been identified as having a language delay. Parents learn strategies to assist their child' learn language throughout the day.