What is Speech Pathology?
Speech Pathologists are allied health professionals with skills in the assessment and management of communication, feeding and swallowing difficulties. They are trained in a variety of areas and work with children and young adults of all ages to overcome communication struggles and learn healthy habits. Speech Pathologists are able to identify, assess, diagnose and treat a wide range of areas and create ongoing treatment plans to ensure healthy development in children and adolescents.
Speech Pathologists can support children and families with the following:
Speech difficulties
Language difficulties
Literacy difficulties
Social communication difficulties
Stuttering and voice difficulties
Swallowing and feeding difficulties
When should you take your child to see a speech pathologist?
As children learn and develop through interacting with everyone around them, it is important to ensure that we are all aware – as parents, family members, educators and health professionals – of what the red flags are for their developmental milestones. According to Youthrive Speech Pathologist Emily Campbell, early intervention is the key to helping children reach their full potential. Here at Youthrive, we've put together a list of red flags to help you identify whether your child would benefit from speech pathology.
18 months
An average child can:
Say four to eight clear words
Copy different sounds and noises
Try to sing
Babble long sentences with some clear words
Point to named pictures
Signs of possible problems include:
No clear words
No babbling
They don't try to interact using language
Can't understand a single, short request like 'Where is the ball?"
They don't know their own name
2 years
An average child can:
Say 20-50 clear words
Say clear, two-word sentences
Name pictures and objects when asked
Follow two-step commands
Show a broad understanding (receptive vocabulary) of 50 or more objects and pictures
Show interest in books and stories
Signs of possible problems include:
Limited vocabulary (less than 10 words)
No combination of words into sentences
Most of what is said is not easily understood
Confused by short sentences
Can't understand more than 10-20 words
No interest in stories and books
3 years
An average child can:
Name objects and body parts
Talk without just repeating what you say
Be understood almost all of the time
Use different types of words correctly
Define things by use (house, key, etc.)
Give their first name
Follow three-step instructions
Identify two colours
Signs of possible problems include:
Persistent copying in talking (such as repeating parts of movies, etc.)
Mostly can't be understood
Limited grammar or vocabulary
Limited content, interest or variation in the language
Can't follow two or three step instructions
Still need to talk to them in simplified 'baby' language
4 years
An average child can:
Use two or more personal pronouns (I, you, he, she, etc.)
Name colours and shapes
Hold conversations
Tell stories in past and future sense
Repeat back a sentence of 10 sounds
Be easily understood by strangers
Understand human feelings (like cold, tired, hungry)
Give their first and last name
Understand prepositions (like in, out and beside)
Signs of possible problems include:
Awkward sentences, missing grammatical elements
Talks on and on and on rather than taking turns with talking
Can't tell a simple story of recent events
Strangers are not able to understand them
Limited or very fixed interests
Frustration at not being able to express thoughts
You still need to simplify what you say for them to understand
5 years
An average child can:
Hold a long, sensible conversation
Make few grammatical errors
Understand opposites
Understand similarities between objects
Understand prepositions (like in, out, beside) and personal pronouns (like I, you, he, she)
Signs of possible problems include:
Regular trouble with finding individual words
Often makes grammatical mistakes
Unable to respond to questions (like what, why)
Can't understand or explain meanings of common words
Mistakes with grammar, tense, personal pronouns or prepositions
Concerns from pre-school teachers about whether the child is able to understand
Unable to repeat longer sentences (eight words or more)
What to do if you have concerns
If you have any concerns about your child, and they are presenting with red flags, referring your child to a speech pathologist can be an easy process. You can simply pick up the phone or send an email, and book in for your first appointment. To contact your nearest Youthrive centre, please click here. To find out more about the therapy process and what to expect, please click here.
How much does it cost to see a speech pathologist?
Youthrive is a fee paying service, however some Medicare and private health insurance rebates may be available. You do not require a referral to see a speech pathologist at Youthrive, however if you have a referral from your GP, Pediatrician or Psychiatrist, you may be able to receive a rebate for our service. Click here to see our full fee schedule.
We can help children with
Improving their ability to be understood by others
Strengthening their skills in reading and writing
Overcoming difficulties with social communication skills
Increasing their comprehension including ability to follow directions
Creating or recommending assistive devices to support their communication
Safe swallowing of food and drink
Reducing their stuttering
Speech Pathology Assessments
Assessments may be informal and include observations of your child, consulting with your child's school and completing questionnaires about your child. Formal or standardised assessments are used to assess overall achievement and compare a child's performance with other children their age. Standardised assessments may take more than one session to complete.
Rebates and Funding Programs
While Youthrive is a fee paying service, some Medicare and private health insurance rebates may be available for our services. Families are encouraged to speak with their GP and nominated health fund to find out whether they are eligible various rebates. Please note rebates listed below are subject to change without notice.
We support families
Speech Pathologists at Youthrive utilise a number of evidence based therapeutic interventions when working with children and their families.  The intervention provided is dependent upon the child's need.
Occupational Therapy & Speech Pathology Screening Sessions
This childhood screening package aims to assist early childhood educators and parents in identifying developmental challenges for children as early as possible.
To find out more, click here.
Learnersaurus Literacy Program
A multisensory approach to teaching literacy skills to all learners, including those with Dyslexia.
The Lidcombe Therapy
A behavioural treatment for children who stutter.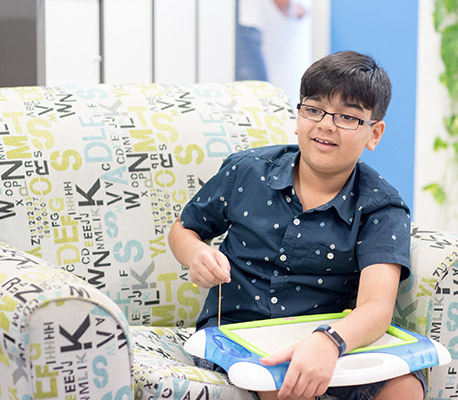 Picture Exchange Communication System (PECS)
PECS is a communication device for children. It is particularly useful for children on the autism spectrum.
Hanen 'More Than Words'
Designed specifically for parents of children aged 5 years and under on the autism spectrum. The program provides parents with strategies to support their child to reach their full communication potential.
Hanen 'It Takes Two to Talk'
Designed specifically for parents of children aged 5 years and under and whom have been identified as having a language delay. Parents learn strategies to assist their child' learn language throughout the day.