Services
At Youthrive we offer a wide range of services in one location to provide convenience and holistic care to our clients.
Psychology
Our psychologists help children and young people with their mental health and academic needs. Our team are highly skilled at diagnosing and treating issues causing emotional or behavioural problems. Our psychologists can also identify a variety of difficulties children and young people may be facing including learning disabilities, attention deficit disorders, hyperactivity, anxiety and depression. They can also help children and young people to overcome trauma or grief such as death of a loved one and other personal experiences that affect their mental and emotional health. Additionally, they provide support to parents to help better understand their children and build coping strategies.
Val from Youthrive Robina says:
"Psychologists help children in a variety of ways, such as: emotional and behavioural issues; building resilience and self-esteem; developing problem solving and communication skills; overcome challenges; and improve overall happiness and wellbeing."
Occupational Therapy
Our occupational therapists help children and young people develop independent living skills and participate to the best of their ability in  everyday activities. A child or young person may need to see an occupational therapist if they are having difficulties completing their everyday activities due to physical, psychological or emotional difficulty, developmental delay or disability. An occupational therapist may work on developing fine and gross motor skills, self-care skills, attention and concentration and sensory processing.
Hannah from Youthrive North Lakes says:
"Occupational therapists help children achieve independence within each of their roles e.g. as a student, a friend, a daughter or son, a brother or sister, a friend and/or team player. We look at how tasks or environments could be changed to better suit a child's needs."
Speech Pathology
Our speech Pathologists help children and young people with speech, language, stuttering and swallowing difficulties.
Gabby from Youthrive North Lakes says:
It helps children to feel empowered to communicate their wants and needs and helps them to engage with other people and in other experiences increasing their quality of life."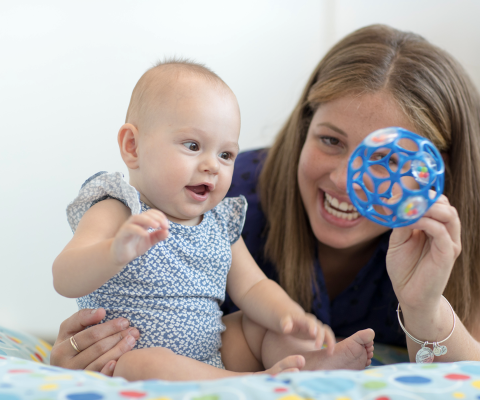 Dietetics
Our Paediatric dietitians (dieticians) help children and young people to achieve optimal health outcomes through dietary education and support.  They support children and their families to ensure adequate nutrient intake, improve food choices and learn to eat a variety of food from the 5 core food groups.